Assalamualaikum :)
Okay ini entry laju-laju sementara tunggu isya yg lebih kurang 10minit je lagi... Kamu tahu tak, kadang sy tak suka betul kalau ada free time. Yes, free dlm 3 hari je tapi dan-dan lah aku nak tgk segala movie, and tidur je. =,= Apa nak jadi ni? Ohhh by the way, esok 1st paper,
TITAS = Tamadun Islam & Tamadun Asia Tenggara.
Tolonggg doakan semuanya cemerlang ye! Mekasehhh!
Cuma sy nak pesan. Lain kali kalau nak exam, print slip exam awal-awal. Mcm UTP kene ambil dkt office kan? eh ke salah :P Mcm UiTM ni kene print sendiri dkt student portal. Alkisahknya sy ni asyik tangguh print sbb alasannya, printer jauh, leceh nak pasang printer. Pdhal baru je beli ink baru kan kan! Haihhh. Hambik kau, ptg td online student portal, server down dah. T_______T
Maybe sbb thousands of student pun buat kerja last minute baru nak print slip exam, jadi refresh beratus kali pun tiada guna. Sobsob. Maka setelah mengadu kpd gf-gf di group BBM kami, group
OG (orang gila)
HAHAHAHA, mereka iaitu
Yasmin, Nani
dan
Tia
pun berusaha untuk ke laman web student portal utk downloadkan slip exam sy. Akhirnya Yasmin yg berjaya di antara kami berempat! Alhamdulilah! Terima kasihhhhhhhh kawannnn-kawannnn!!! :'))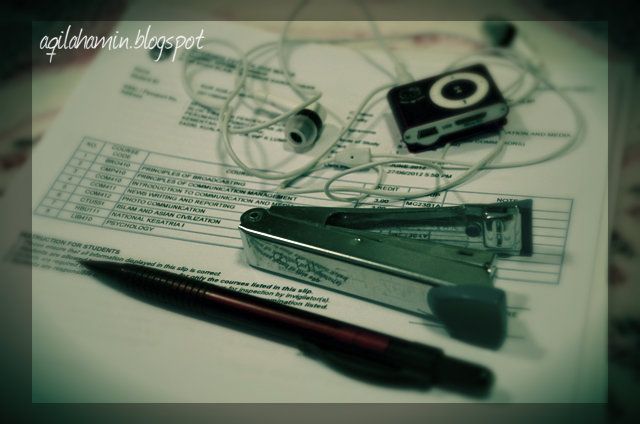 8 subjects. Ambik kauuu! Tolong laaaa, tolonggg doakan supaya pointer best! Amin!
Taubat 5 sem akan dtg akan print slip exam 2 minggu awal!
28th June - 9th July 2012!
P/S: Welcome home dearest Shafinaz!
Good luck everyone, Do pray for me!