Assalmualaikum! :)
Hyeee! Hari ni free sikit, bolehlah update cerita yg hampir basi ni, hewhewhew. Okay hari tu ada update tentang sepupu kita kma, bernikah kan dkt
SINI
. Ni nak cerita tentang majlis errr reception dia, mmg belah perempuan dulu selalunya kan? Sbb ada org kata, ade sesetengah negeri, majlis belah lelaki dulu. Tak sure sejauh mana kebenarannya itu, maaf ya!
Ini sy jd pengapit kali 2834 kali. Taklahh, kali ke 3 dah kot utk sepupu-sepupu. Selalunya partner dgn kma nih, tp kali ni dia yg kahwin. So terpaksalah berpisah dr partner sendiri. Pengapit lelaki tuh baru jumpa time nak masuk dewan =,=
Majlis ni 3 jun 2012 lepas, di Indera Mahkota Kuantan, Pahang. meriah jugak, Alhamdulilah. Few pictures of the day!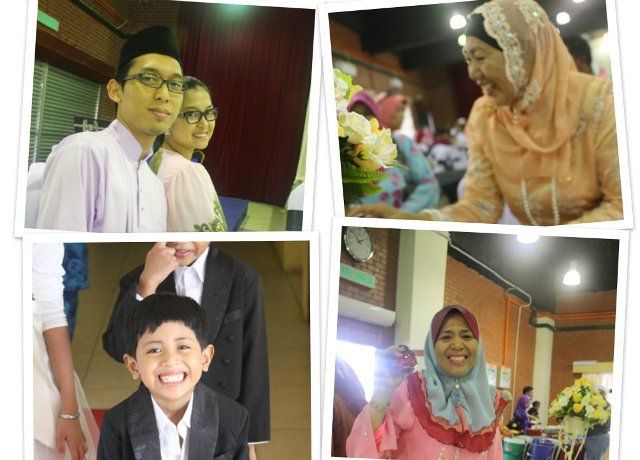 Cousins, Nephew, Aunties, Beloved MAMA!
Baju & kasut kma yg ditempah khas from a fashion designer
Raffiey Nasir
Well, honestly, cantik, dan fits into her body perfectly... cuma a lil bit costly. Haruslah kan, fashion designer. Dia pernah buat baju utk Natasha Hudson, Neelofa, etc. :)
Sy dgn kak sally, family, family, and family!
Abah dgn mama berduet karokae, bukan main lg. Ohh tp kami karokae bila semua tetamu dah balik. Kalau tak, segan lah kan. Hehe. Cake and Aisyah yg darjah 6 tu pun menyanyi, lagu Yuna. Kecik kan for 12 years old girl? I was double of her size when i was 12 :P
Last but not least, CRAZY COUSINS! tp tak cukup pun... Sebab ada yg sibuk dgn anak-anak. Yeahhh. we're getting older. Semua pun dah ada commitment lain-lain.
Habis around 5pm, terus cepat-cepat rushing balik rumah, nak bersiap utk balik KL... Haa time ni lah, 6 jam kot dlm kereta dr Kuantan-KL. Sebab cuti sekolah kan... Ya Allah penatnya, bosannya, mengantuknya, laparnya, semua ada. Lepas tu esoknya terlajak kelas pagi... Terus prof ckp sy gangster. Huhu...
Nanti update dkt KL punyaaa pulak! :P Okayyy, Selamat pengantin suam-suam baru kma!