Assalamualaikum :)
Seminggu lepas, hari Sabtu, sy dgn classmate beramai-ramai menaiki bas UiTM dihatiku, hewhewhew, ke Sentul Boulevard Center. Sebenarnya ini utk kelas Newswriting. Budak-budak Publishing pun ikut, dan hari tu juga baru tahu budak INTEC pun ikut. INTEC adalah budak-budak pandaiii, yg score SPM, dan bakal terbang ke overseas. So, dalam bas tu baru tahu rupa-rupanya it's a charity event managed by the INTEC students.
Tetiba cuak plak kan. Sbb ingt just pergi melawat mcm tu je, sekali ada kerja utk dibuat! Tp dlm hati seronok jgk, sbb rasanya org-org yg rapat dgn sy, tahu kot sy mmg teringin nk join charity event or any volunteer's activity... Layankan je lah walaupun mula-mula tu mood mcm hape je sbb tidur 2jam je buat assignment =,=
Sampai je Sentul, mcm pelik tak nampak sekolah? Rupa-rupanya sekolah dia dalam bangunan, mcm lot rumah kedai tp besar jugak. There were three main activities, ice-breaking which contains self-introducing and we sang few songs, and dances with them! The next segment is story time! We read books for the kids, and last, the art segment which we made a bookmark with those kids. An they called us TEACHER :P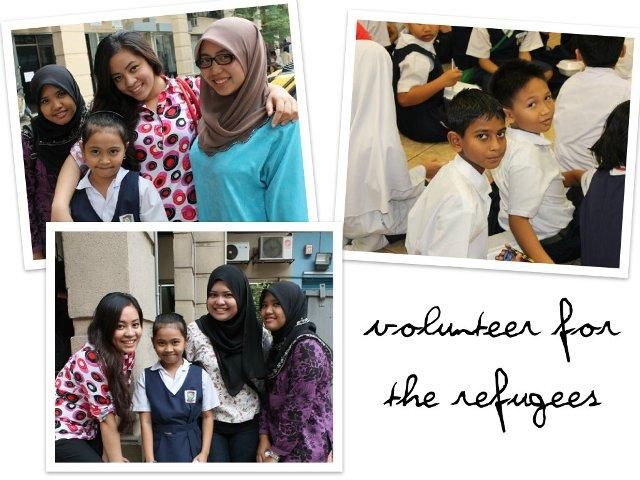 We arrived around 9 something I guess. And finished around 1pm. It was fun, and challenging for me. As I have no idea how to read the story books with you know, that attractive intonations. LOL. And my student, Shuhaidah is a quiet and shy student. She can hardly smile. But I managed to make her feels comfortable after 2-3 books. :P And we take turns in reading those books. Hehe..
The art session is interesting. Because we have to give suggestion as well as do it as a team! Hahahha, with that little time given, there's no time to waste.
Tia, Nani, Me and Yasmin while creating the bookmarks.
We had lunch before we headed back to UiTM. And I personally would like to thank Pn Yati for this opportunity. And Tia, Nani, Yasmin, classmates, Publishing students, INTEC students, for the awesomeee days! Haha... Till then, have an awesomeee Saturday!