Assalamualaikum :)
Alhamdulilah, hari ketiga cuti gawai! Terima kasihlah UiTM kasi cuti gawai, (ini first time tak silap). Tapi buat pertama kalinya juga, sikit pun tak rasa excited nak cuti. Manyak kerja, will story late! Kalau tak, mmg taklah menyempat nak on9 tulis blog cam gini, tak menyempatlah nak relax-relax tgk TV sejam-dua, apa tah lagi mengemas bilik dan menyental toilet bilik air. Semalam adalah hari mengemas paling all out dlm sebulan dua ni. Sbb ada 2 perabot (eh tak perabot sgtlah) dlm bilik ni dikeluarkan... 1 rak buku kecil, 1 almari extra. Jadi kental juga lah nak pindahkan brg satu almari, yes the whole closet, ke bilik sebelah.
Actually, kma dan kak sally semua dah pindah rumah baru-baru ni, haruslah sebab sudah tiba masanya mereka menamatkan zaman bujang. Hambik kau serentak dua sepupu rapat kahwin tahun ni... *lap air mata*. Apa pun biarlah, harap sgt mereka bahgiaaa, Aminnn! Jadi, sebenarnya i love a simple, bedroom. Well simple, less stuffs. But siapa yg kenal sy, tahulah brg sy punya banyak mcm manaaa. Jadi, mmg bilik sgtlah penuh dgn barang. So, semlm mama dgn abah sibuk re-arrange bilik sebelah utk jd bilik tetamu. Dan disebabkan mama ngah dgn abah ngah pun nak dtg, maka sy main susun-susun je semua barang yang ada ke bilik sebelah. Dan yes, dari pagi 9am sampai 11pm adalah hari mengemas rumah dan bilik, mekasehhh!
Sooo, let see semalam dah buat ape sampai kalah Cinderella kemas rumah sehari:
Basuh baju dgn washing machine, tolong mama abah angkat kain.
Vacuum bilik tetamu, vacuum ruang tamu TV, dan vacuum ruang tamu depan... Ya ampun, I was sweating a lot. Basah baju kot nak vacuum satu rumah, nak tunduk2 dkt tempat tersorok tu... Haaa ini paling lama.
Basuh kain guna tangan utk baju-baju tertentu based on the materials and colors.
Jemur kain, angkat kain, dan tukar cadar katil! Ini pun part letih juga ni bila cadar tu kena tarik 4 penjuru, lepas tu kene angkat tilam sbb nak masukkan cadar lebih-lebih tu bawah tilam. Tilam berat kot! Dah petang...
Sebelum mandi, cuci toilet... Ha ni penangan sakit pinggang bila bgn tidur tadi. Sy cuci toilet, bukan cuci main jirus-jirus air je tau? Ambik sponge hijau basuh pinggan yg kasar tu, mari sental sink, sental mangkuk jamban, cuci dan sental sekeliling dia tau? atas bawah, kiri kanan. Lepas tu gayung dgn baldi pun cuci, last barulah sental lantai toilet tuh...
Mula lah alih barang dari rak buku dan almari extra tu, letak ke bilik sebelah, termasuklah novel-novel kesayangan... Hajat hati nak letak je semua atas meja study, tapi nanti berhabuk, lagi sayang...
Dan, hasilnya semua baju kurung, kasut-kasut, novel-novel, kotak-kotak memori daun pisang diletakkan di bilik sebelah... Tapi semlm 11pm mandi, dan surrender! Hari ni akan sambung.
So this is my bedroom's new look. But cakap awal-awal, ni pun bersepah lagi... Tapiii gambar sebelum lupa nak snap! Rugi sungguh... But just imagine this room with 1 extra closet and 1 extra book shelf. Ada 10% tak siap lagi, plus, barang-barang dlm almari dan laci pun semua ribut taufan la nina lagi =,=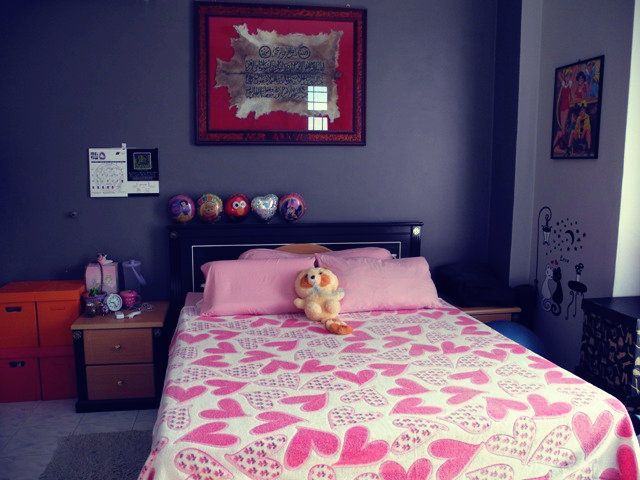 Mama, thank youuu for this new fluffy blanket!!!! Sukaaa sangat!!!
It's so fluffy, i'm gonna die! - Despicable Me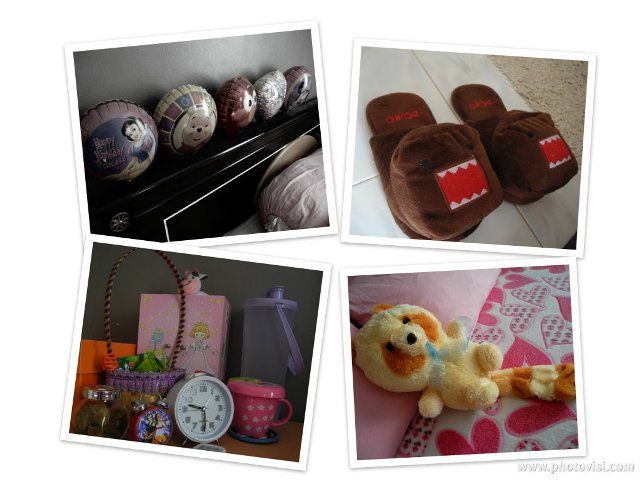 I have ballons, from mama & abah :) I have Domo's fluffy bedroom flip flop, my alarm clock, Raisins, my cute strawberry mug, and a bear from my gf. Memandangkan allergy, terpaksalah peluk 1 bear je.
Lain semua dlm almari.
Fall in love at first sight with this wall clock.
From Romantika.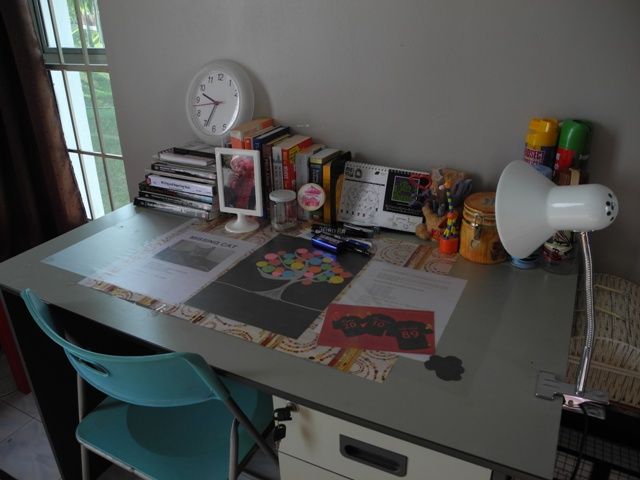 Meja study yang dah makin kurang buku! Luas sikit utk study... :)
Novel yg betul-betul syg dan favorite je letak dkt atas, such as Something Borrowed, One Day, P.S. I love you, The Lucky One, What we believe but cannot prove, The Gift, etc.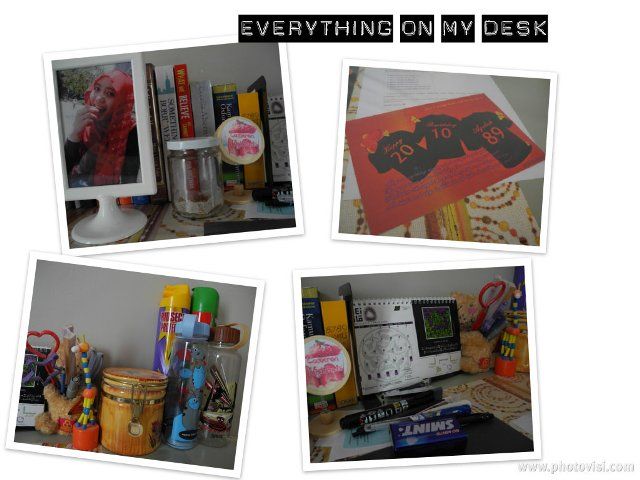 a small jar of cookies, custom made birthday card for me, calendar, cute bottles! :P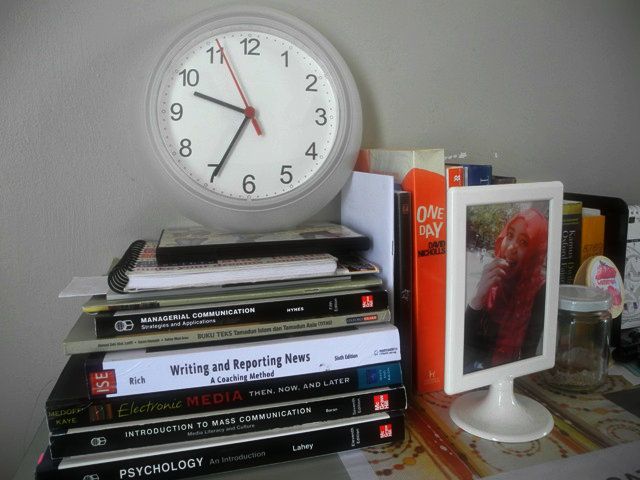 Buku study semua wajib ada. Hari isnin paling patah bahu, 3 buah buku. Total up dengan beg dan air, timbang-timbang 8kg kot.... T___T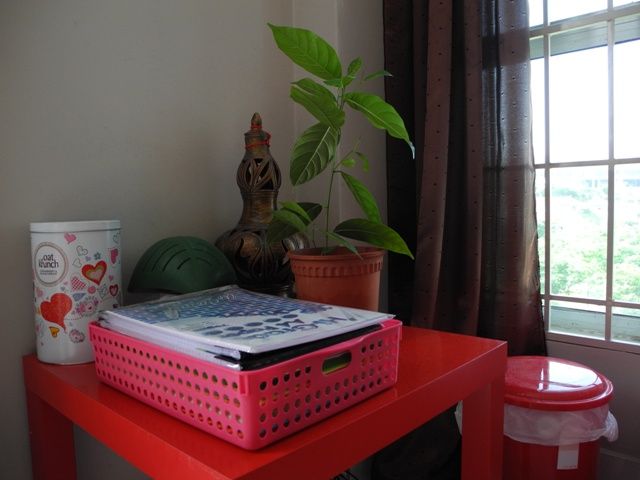 Small corner sebelah meja study... ada air purifier, lampu tidur yang jarang dibuka, a tin of oat biscuits (beli sbb bekas comel sgt), dan pokok nangka. Ye pokok dlm bilik tu pokok nangka... Sy tanam sendiri... Tanam dari biji nangka yang dijual tepi jalan. Makan nangka sedap, tanam 3 biji. Tp hanya 2 hidup. Tp yg satu lagi sedang layu sbb akar tercabut... Sedih! Harap yang ini terus kekal subur!
Dan tingkap ini dapat dibiar lapang. Sukaaa :)
Nampak mcm banyak barang lagi kan? sy dah kurangkan dah! Dan sepatutnya sekarang sedang sambung mengemas... Tp mata tiba-tiba mengantuk. Hehehe... Okayyy, nanti sambung lagi, till then, take care!
Happy so-called holiday utk semua yang bercuti. So called sbb tak rasa cuti. Nooo, this ain't a complain. Babaiii! :)