Assalamualaikum :)
A month before my final exam which will begin on 28th June 2012. Nothing much to say, i have a lottt to catch up within a month! Plz plz plz pray for me! My carry mark really is not that good enough, so I have to study harder than I previously did before. Well, I managed to score some of the subject, but as I was saying before, "SOME", means that some of the subject are not that great. Yeahhh, not that great.
Alhamdulilah... So far utk semester satu ni, semua lecturer ajar mmg faham. Mmg masuk, mmg tak ada masalah sangat. Adalah 1-2 subjek yg tak berapa nak masuk sbb lecturer ajar laju gilaaa blh habis 3 chapter dlm satu kelas! Acamne tuh? Err, fahamlah apa yg diajar, cuma kadang esok lusa dah lupa. Gila teruk short term memory. So, to be exact, I have to do revision based on what I have learnt before. Yesss, sbb cepat lupa. Cepat faham, cepat ingat, cepat lupa. Siapa kata aku tak fokus time lecturer ajar meh nak lepok!
To me, sekarang ni 24jam sangat tak cukup. Kadang rasa nak menangis tak cukup masa. Ehh bukan rasa nak menangis, dah menangis dah pun. Menangis sebab geram dgn diri sendiri. Geram sbb tak boleh score quiz or test, geram jgk bila presentation 'biasa-biasa' je. Maybe sebab ada subject yg dpt quiz and test tinggi... ada subject yg presentation best... So bila dpt biasa-biasa, among the average, I cried. Yeahhh, sebab rasa I could have done better. But yes, still, past is past. Dan jadual exam dah keluarrr 1-2 days ago!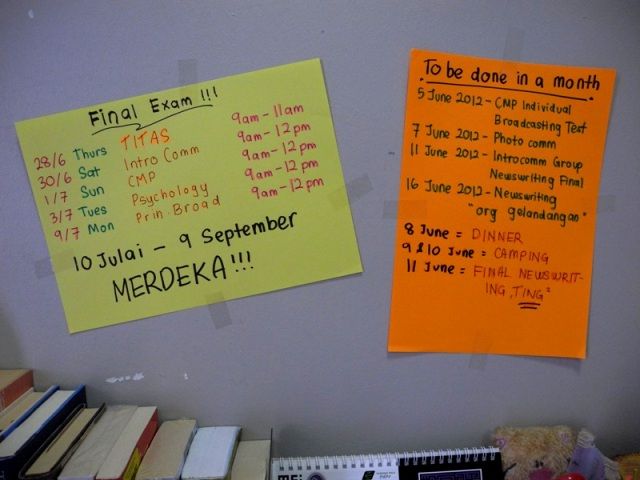 The yellow paper stated my exam schedule. And the orange paper is my to-do list within a month before final. Yeah as you can clearly see, still lot and lot of things to do! Ohhh regarding my exam schedule, I have two paper to be seated on Saturday and Sunday, how cooooooolll is that? =,=
Ohhh for those who might be wondering, I have 5 subjects with final exam, 1 subject with final test, another subject is totally depends on the quiz, test, assignments ANDDD last but not east, subjek wajib semester 1 UiTM - Kesatriaaa yang kawad-kawad tuh. Kalau failed, kene repeat tau. Jgn memain! So far, I have attended ujian bertulis, ujian kawad, dan ujian kecergasan fizikal yang kene berlari 6 round padang kawad! Haaa, mampu? :p
My killer subject will be Intro to Communication, on 30th June, followed by Principle of Broadcasting 9th July (last paper), Psychology 3rd July, TITAS (first paper) and CMP Communication Management. Well it depends. Semua susah sebenarnya! Bolehhh? So plz plz plz doakan yeah!
Sampai mark dkt calendar. Over tau! Tak pernah buat macam ni, walaupun zaman SPM dulu!
Kalau perasan, kalau perasanlah, memang lately jarang muncul dkt FB, kalau ada pun like, like, like gambar or status kawan-kawan tersayang, then update status. Blog ni lagilah bersawang ha! BBM or Whatsapp or SMS or call pun kadang tak sempat nak balas or call back, minta maaf eh! Bukan sengaja tahu tp memang kesuntukan masa sangat sangat sangat... Dan sebab tu jugaklah previous post ni kemas bilik beria-ria. Sebab dkt sebulan tak sempat kemas, bilik sekarang sgtlah macam, macam sgt tak best!
Makanya untuk sebulan niiiiii, sampailah 9 Julai, lagilah akan lebih sibuk, lebih emo, lebih macam-macam. Minta maaf awal-awal ehhh kalau terasa mcm tak dipedulikan, serius, minta maaf. Harap semuanya berjalan dgn lancar, tlg doakan!
Thank you
utk semua yg banyak support especially
mama abah, namin,
yg selalu bg support through phone & internet -
Shafinaz, Azwan, Ainaa, dan tak lupa kawan-kawan UiTM
yang terpaksa hadap benda yg sama.
Sangat-sangat sangat berterima kasih utk semua ingatan dan doa~! Thank youuuuuuu!!!