Assalamualaikum :)
1st of all, again Alhamdulilah. Sebab selamat pergi dan balik dari setiawangsa ke cheras perdana utk ke kenduri kak rena dgn abg boy ni. Sebab on the way tadi, X-Trail tetiba berhenti sendiri padahal lagi 5minit nak sampai. Faham tak dia punya terkejut dengan rasa sengal-sengal ubi kayu tu mcm mana? 1st sebab tetiba dia slow slow slow, then berhenti sendiri, break pun tak makan. Nasib abah sempat ke tepi time kereta slow-slow mati, kalau tak memang stop tengah2 tu lane tengah tu jugaklah. 2nd sebab lagi 5minit dah nak sampai rumah pengantin kot. Huhu. Try start, kereta tak mahu hidup. Tunggu lama sikit, tengok lambang engine menyala dkt meter kereta. So, it shows there was something wrong with the engine. Lama tu baru hidup, so jalan slow-slow. Abah ckp ada something wrong dgn sensor enjin kereta. And boleh refer dkt Nissan je. Tapi alhamdulilah selamat sampai!
Bukan main lagi pergi kenduri bawak nenek, makcik sepupu semua tau. Hihi. Dah minta kebenaran tuan rumah ye, kebetulan teh dgn aisyah pun baru sampai dr Kuantan. Kma dgn ayie tunggu dkt sana sbb kma gerak dr Cheras. Makanya memula dr setiawangsa, sebab malas nak bawa bnyk kereta, berhimpitlah dkt belakang 4 org dewasa. Haha :P Sampai sana org dah ramai, tapi pengantin tak sampai lagi, so kami makan terus setelah disambut dgn baik oleh namin sekeluarga. Terima kasih semua! :)
Then conquerlah kami sekeluarga 1 meja. Catering sedap! nomnomnom. Time tgh makan tu baru pengantin sampai dan bersanding kejap, lepas tu makan err apa nama, makan beradab? berhias? LUPA!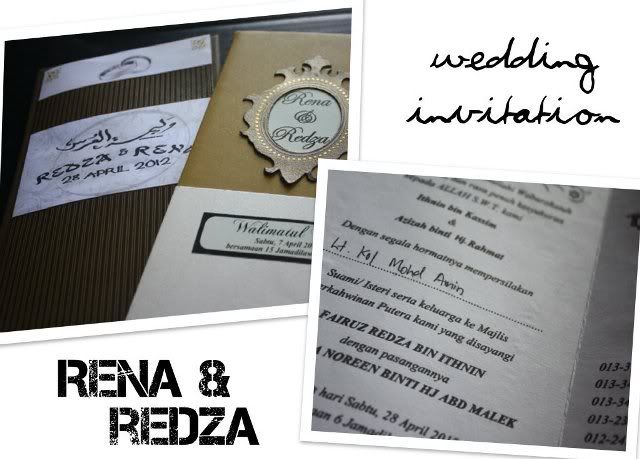 kad kahwin belah kiri, majlis lelaki. Belah kanan, majlis perempuan.
Jarang dah sekarang tgk org buat kad asing-asing kan?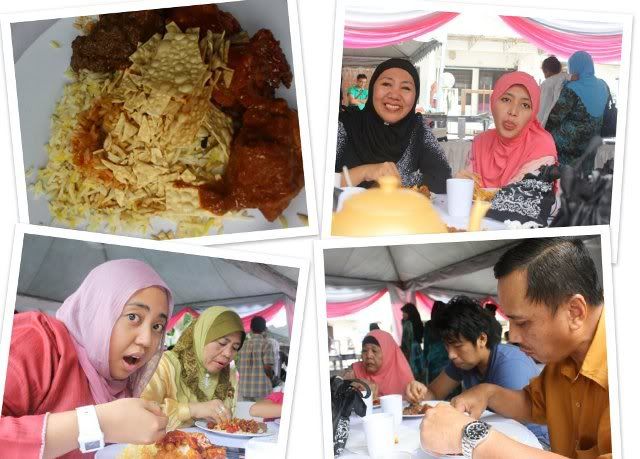 teh, kakngah, kma, mama, cik, ayie, abah. Sedap kot makanan!
Abah, mama, teh, kma semua tambah! Sy dah ambil banyak awal-awal. Hahaha.
Selamat pengantin baru kak rena & abg boy!
Semoga sama-sama kuat dan bantu membantu antara satu sama lain dlm mengharungi hidup berumah tangga. Eceh mcm dah pernah kahwin je ckp. And cpt dpt anak comel! :)
alololo... time nak ambik gambarlah angin tetibe kuat, tudung pun kemek herot sana sini.
Mcm zaman dolu-dolu kan! Hahaha.. Saje je :)))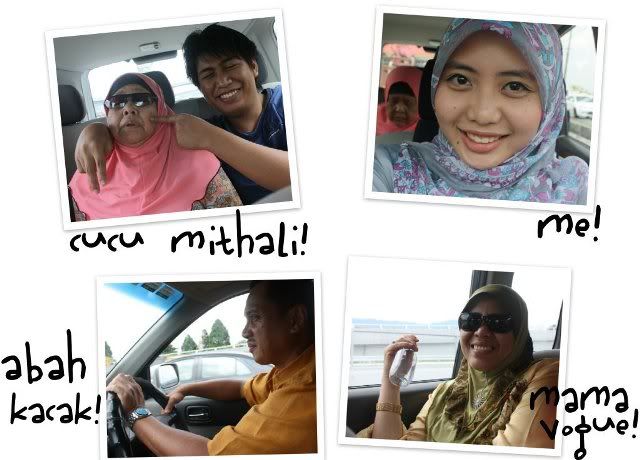 on the way home. Kma ikut dr belakang, just in cased kereta mati lagi.
Memang mati lagi sekali pun, dkt area Ampang. T___T Then jln semula slow-slow.
Alhamdulilah selamat sampai rumah. :)))
Okay esok hari last cuti, nanti hujung bulan 5 baru cuti lagi! Bulan 5 ni akan jadi bulan yg sgt sibuk dan memenatkan, dpt bygkan dah. Huhu. So mcm biasa, akan jarang update blog lagi... Kalau sempat insya Allah menyelit jugak!
So far utk bulan Mei, weekends mcm dah half penuh :
5 & 6 Mei – kawad (pagi) & recording akustika Ramadan TV3 (ptg-malam)
12 & 13 Mei – camping Kesatria di Raub, Pahang
Dan banyak assignment dan presentation to be done! June dah final kot! Cepatnya! Okayyy till then everyone, enjoy life to the fullest!