Assalamualaikum :)
Hye, it's been a while! I know! Well Alhamdulilah, on 5th April 2012, genap sebulan bergelar pelajar semula. So far so good. Yes, not much obstacles, ada pun kecil-kecil je. Selalu ingatkan dalam otak, ini baru semester 1, makanya, hadapi dengan tabah! Small matter je meh, nanti semester 5, ke 6 ke, nak pening, logik sikit. Tak gitu? Kawan pun masih dlm proses perkenalan... 1st impression tak semestinya betul. I made mistake too. Ada yg 1st impression tu betul sangat! Ada yang tak betul... To be exact, we are still in a process to observe each other. So, tengoklah semester 1 ni mcm mana, kalau semester 2 nanti masih sama, maksudnya mmg cam gitu lah kan? :)
But yes, I am lucky... I always am, and i thank Allah for making things easier, tak kisah lah aspek apa pun. Kwn paling rapat buat masa ni, yang susah senang sama-sama, tolak kereta yang buat double parking sama-sama dlm hujan mahupun panas terik, sama-sama memberi galakkan utk makan, ketawa dan jangan stress *sengal*, si Tia lah... Hopefully, she would always be the one I could count on. Insya Allah, Amin. Thank you Tia for everything!
Btw, hari ini mahu kongsi tentang kelas minggu lepas, kelas photo communication! What is photo communication? Sebenarnya kelas ni sangat seronok buat orang-orang yang suka photography! Sebab belajar basic camera, dan seterusnya tentulah tentang DSLR! Haa selama ni main bantai je ambil gambar kan, padahal tak tahu apa benda pun, jadi time kelas ni belajar tentang semua setting yang ada. Seronok! Sebab assignment dia pun semua ambil gambar je. How awesomeee is that? Heh. And last week, kami beramai-ramai ke rumah prof waktu kelas!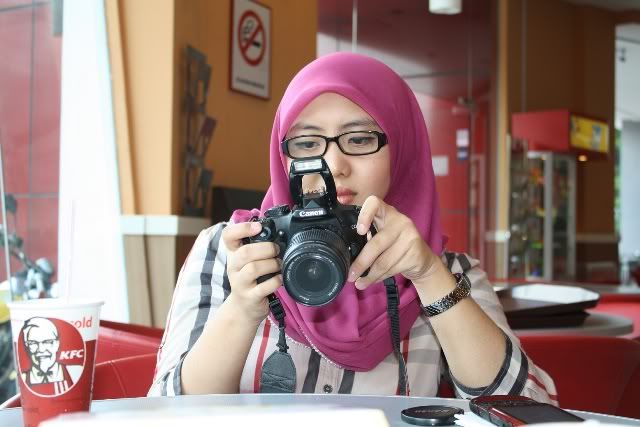 Masing-masing digalakkan membawa DSLR. Memudahkan pembelajaran.
Time ni sampai awal, maka cuba-cuba snap gambar dgn Tia dulu.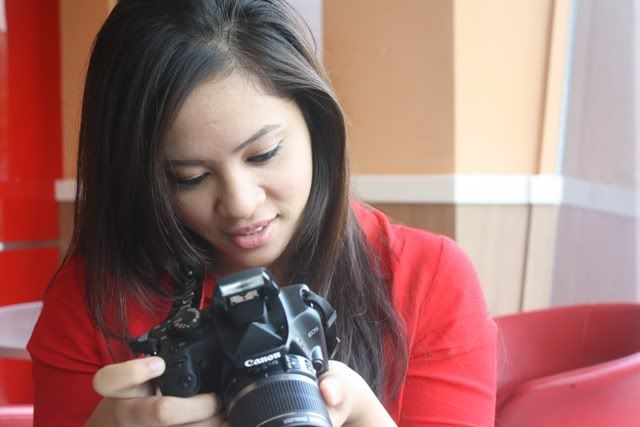 inilah Tia! Nama sebenar dia Fatehah. Nama glamour dia Tia K. K is referring to Kardashian.
Sbb semua cakap, *termasuk qila sendiri* rasa muka dia, rambut dia, sama macam Khloe Kardashian!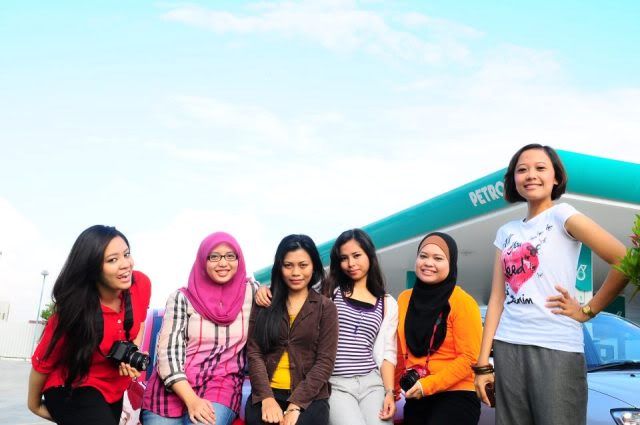 kemudian, kami berkumpul di Petronas paling dkt dgn UiTM tu. Sempat ambil gambar tuh ;p
Kami konvoi 4 buah kereta. 1 kelas 19 orang je!
Ohhh dari kiri, Tia . Qila . Siti . Umi . Nani . Ika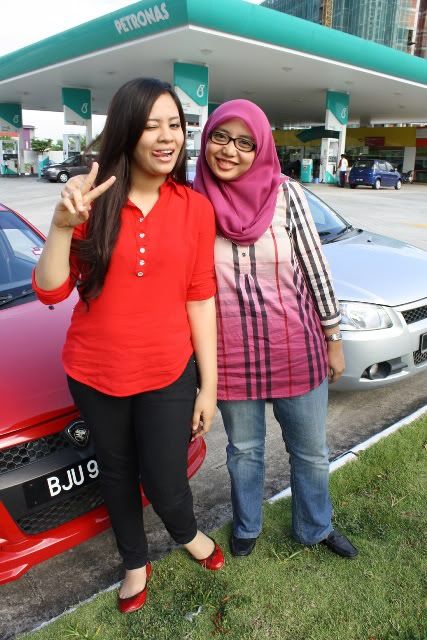 Haaaa ambik jelas gambar Tia dgn Qila. Nasiblah dia ni kuat gelak jgk. Taklah bosan.
Peramah, semua orang dia masuk, lepas tu blur jugak kadang-kadang. Tp baikkk! *tinggi dah puji ni tia* :p

my only burberry shirt... Ada sesiapa lagi nak belanja? ada ada? *mintak penampar*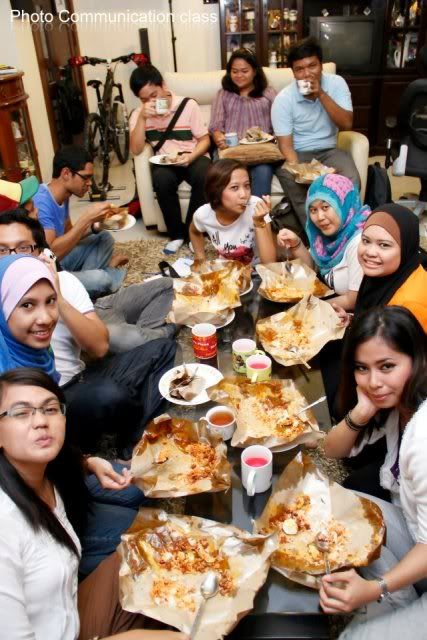 tak sampai 1 jam kelas, tetiba prof suruh makan dulu! Ingatkan dulu prof memain je nak belanja nasi lemak! Sekali mmg ada nasi lemak, siap dgn chocolate cake, air sirap, air teh. Untunglahhh~~~
Habis kelas dalam sejam-dua, setelah dpt few notes, and how to handle the camera, usages of the setting, a lil bit briefing of the assignments, haruslah ambil gambar beramai-ramai kan! With classmate and prof!
Rumah prof sangatlah lawa! Org seni lah katakan... Oh kelas prof ini hari Rabu, Rabu adalah hari yang santai sikit. THANK YOU SO MUCH prof!!!! :))) Isnin-Selasa sangatlah memenatkan. But naaa, I don't have problem dealing with the schedule so far. Biar padat dan penat sekaligus, kemudian rehat sikit. Tak gitu? Ohhh sini jadual sy buat masa ni sem ini.
8:30am -11:20am = Psychology
2:10pm - 5:00pm = Newswriting & Reporting
6:10pm - 9:00pm = Intro to Mass Comm & Media Studies
8:30am - 11:20am = Princpiples of Broadcasting
2:10pm - 5:00pm = Communication Management
Rabu
10:00am - 12:00pm = Photo Communication
2:00pm - 4:00pm = Tamadun Islam & Tamadun Asia
KHAMIS JUMAAT CUTI!
Tapiiii... Sabtu kawad.
Dan buat masa ni, almost every weekends BOTH sabtu dan ahad, ada modul dr pagi sampai petang. Termasuklah hari ni... Mcm hari ni, kawad dulu 8:00am - 9:30am. Then tukar baju formal, 10:00 am - 5:00pm (normally). Tapi hari ni habis awal. *Legaaa* Kesimpulannya di sini, Khamis dan Jumaat itulah cuti. Lain dari yang lain. Belajar punya pasal, tak kisahlah!
Jadual dekat atas ni, secara kasar je tau. Kdg masa mula dan habis bergantung pd lecturer. Hehe.. So kadang habis awal, kadang lambat. Dan, salah satu assignment terbaru adalah, tulis blog '-___-'. I know, i know. Mcm pelik... Tapi, yup itu adalah assignment! Wajib tulis blog sekurang-kurangnya seminggu sekali. Tak kisah pun tentang apa, santai dan lecturer nak tgk bahasa je. Nak tgk cara penulisan kita orang. I'll update another story later on. Puan Yati, jangan ambil yang ni eh.. Bahasa rojak dah.. Huhu.
Okayyy, that is all I guess! Till then, take care ppl! :)