Assalamualaikum :)
Alhamdulilah dah makin sihat. Antibiotic & ubat demam pun dah habis. Badan je kejap-kejap panas sejuk, sengau dan kahak yang masih degil. Terima kasih yg mendoakan supaya cepat sihat! Alhamdulilah. :) Tahu apa hobi yg mmg suka sangat buat? Mengemas rak, laci atau almari. Sebab apa? sebab kalau kita dah kemas pun, nanti 2-3 hari dia bersepah semula... Padahal bukan ada apa pun *facepalm* Maybe, just maybe, kita selalunya rushing kan, jadi main campak-campak je semua barang dlm laci. Nasib baik tak tercampak kucing sekali. Hahaha...
Tapi bilik ni memang WAJIB vacuum seminggu sekali. Selalunya 2-3 kali seminggu... Sebab rumah tgh bandar kan, tak buka tingkap pun dlm bilik, tapi cepat berdebu. Kadang bila dah penat pun, vacuum dan kemas juga sebab tak selesa. Kalau tak selesa, mcm mana nak buat kerja dan tidur lena kan? Jadi, tu lah sebabnya. Bukan sebab rajin pun, tapi keadaan memaksa. Eh merendah diri plak. :P Okayyy abaikan. Hari ni rasa nak mengemas 1 bahagian almari yg, kira macam almari solek sy lah. Cuma dia salah 1 rak dlm almari baju. Nak letak almari solek dlm bilik ni pun dah tak ada ruang.
Inilah dia, yang paling penuh sekali bakul. Nose spray, Eye drops, Vicks, Blusher, Eye shadow, Lipbalm, Cream, Foundation, Mineral powder bla bla bla. Bakul ni memang paling messy!
Brooch dgn pin siap ada 3 bekas... 1 bekas brooch yg selalu pakai, kiranya antara yg paling lasak, jenis kalau terjatuh tak pernah tercabut permata lagi... 1 bekas brooch yg jarang pakai, samada dah rosak atau sesuai utk special occasion. Dan lagi 1 bekas siap sponge untuk pin-pin.
Ini plak antara bahagian penting, mcm hari-hari guna... Tapi sebab dia duduk dalam sekali, jadi sy tinggikan kedudukan dia dgn terbalikkan tin coklat antik tuh. Jadi, senang nak ambil. Ini termasuk makeup remover, toner, moisturizer, bedak, sunblock, olive oil. (Tapi jarang pakai sunblock, tak suka!)
Concealer pun satu lagi, tak tahu nak pakai mcm mana. Sebenarnya tu utk tutup parut, segala eyebag, tapi memang tak reti pakai. Jadi, memang tak pakai. Mascara pun sgt jarang pakai. Sgt jarang maksudnya, setahun adalah 3-5 kali? Selalunya kalau cousin kahwin, kawan kahwin. Ke kelas atau saja-saja keluar, memang jarang sangat. Tak rajin. Eyeliner, beria beli yang pensel, tapi memang tak tahu nak pakai! Gel pun tak lepas. Jadi kalau pakai eyeliner tu, selalunya Liquid Eyeliner. Itu pun selalunya kalau rajin, 2 kali seminggu? Ke kelas kalau sempat je.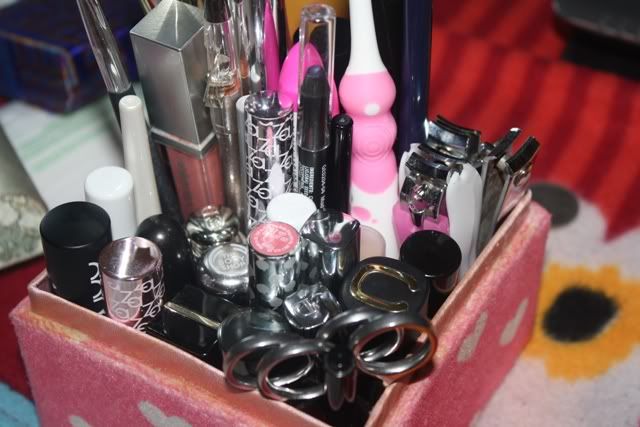 Bekas pink hadiah dari roommate form 4 waktu di MRSM dulu! Inilah sumbat segala mascara atas ni, eyeliner, lipstick, lipbalm, lipgloss, nail clipper, etc etc.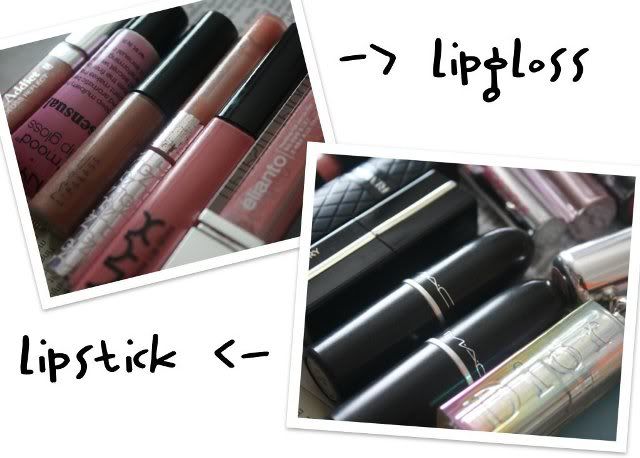 among favorite! Hihi... Sgt suka lipgloss dan lipstick, walaupun jarang pakai. But i really love the colors! Tapi sejak belajar ni, akan pakai pagi-pagi. Supaya muka tak pucat sangat. Tapi sekali tu je lah pakai selalunya, kalau rajin akan touch up. Tapi sayang semua! Colors that suit me well are - orang, soft brown (neutral) and mauve. I would love to try red!!! Tapi tak berani... Too bold. But fascinating gila!
Perfume-perfume! Sekarang kalau tak pakai bila keluar rumah, rasa pelik. Tapi selalunya spray sekali je... so macam tak tahu pun orang lain bau wangi ke tak. Kalau lalu sebelah tak wangi tu, buat tak tahu je okay sbb dah pakai perfume dah! But again. Memang suka perfume sbb bau-bau dia. I don't really adore flower or fruit sebenarnya... More to something elegance and exotic combination. But i super love perfume!
Body butter from bodyshop pun best! Dia mcm lagi best dr lotion.. Dah habis, selalunya sy ni memang sayang nak buang bekas-bekas yang comel-comel. Jadi dalam tu letak foundation sponge dgn kabuki brush!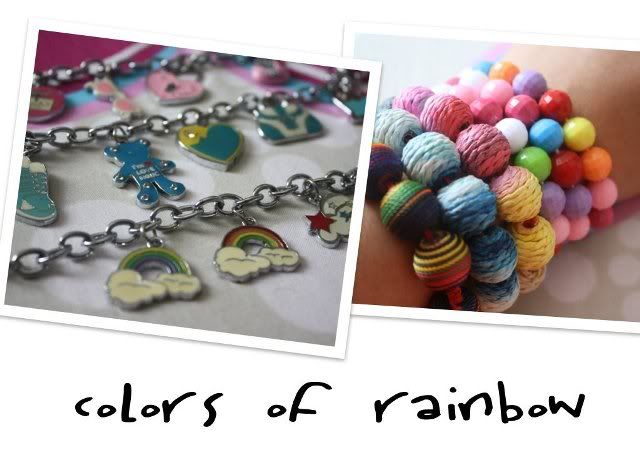 a part of my rainbow bracelet and bangles.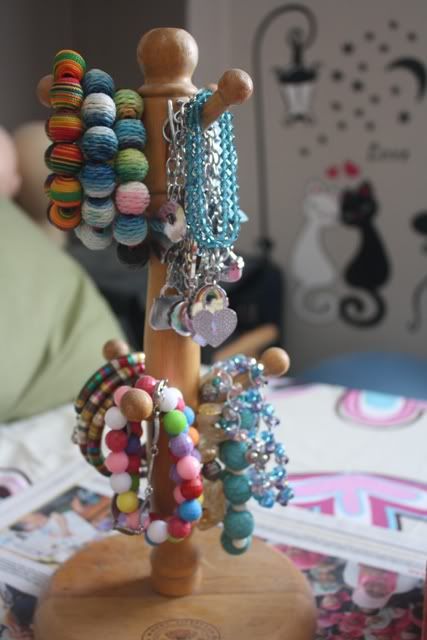 Sebahagian digantung dlm almari... Sebahagian lagi dlm kotak. Nanti share okay! :)
Bila dah kemas macam ni juga, baru jumpa mana yang dah lama tak jumpa... yang dah tak elok, dah nak habis ke, semua tahu. Tadi pun ada juga 1-2 item yang buang sebab dah tak elok. Selalu rajin check tarikh expired tau! Selalunya barang-barang mcm ni, ada tarikh expired, atau 2-3 tahun lepas dibuka. Jangan main pakai je, tak elok! Especially yg kulit sensitive tu, jgn cari masalah...
Siapa yang pemalas nak mengemas tu, bawalah mengemas ye... Demi kebersihan dan kemudahan diri sendiri juga! Hehe.. Okay, have a nice sunday! Till then!
P/S : Selamat menunaikan ibadah umrah buat sepupu tersayang, Kak Sally… Semoga selamat pergi selamat pulang. Doakan Aqilah juga tau! I love you kak… Take care!
P/S: Tahniah juga buat Ika, Incik Biru, Shahli, Muiz, Amira, semua budak UKRIDA yang lain yang baru graduate! Selamat menjadi Doctor sebenar! --- Bertahan internship one and a half years! Proud of you guys!