Asslamualaikum! :)
Sepatutnya sy dah tidur kot sekarang... Sbb badan sejuk panas sejuk panas. Sangat tak best. Sebab macam fikir, rasa sejuk tapi panas, panas tapi sejuk. Mulalah berpeluh-peluh tapi sejuk, kalau switch on aircond, sejuk sangat pula. Aishhh dilema org demam. Rasa nak mengemas bilik, almari especially membuak-buak. Ada keinginan, tapi malas, makanya tak ada semangat lah kot? Mungkin badan. Eceh alasan sungguh! Padahal tadi laju je nak shopping tudung. Haha.
Okay, sebenarnya hari ni official start cuti mid sem! yip yip hoorey! Alhamdulilah, hari yang dihitung sejak mula-mula masuk belajar dulu dah pun tiba... Tapi masalahnya, bila dah berlalu 7minggu ni, baru sedar, okay, dah lama sambung degree. Tak ada apa pun cuti seminggu. Betul... Apalah sangat seminggu. Dgn assignment, upcoming quiz and test. *Lap peluh* Tapi kiranya sy cuti sejak semalam (Khamis) sbb last class adalah Rabu! Maklumlah jadual kelas yang full hari Isnin-Rabu je. Sabtu Ahad tu utk kawad dan modul lain cerita tahu! Nanti sy cerita biar terang lagi bersuluh okay... :)
Nak dijadikan cerita hari Rabu hari tu, last minute ada replacement class utk Newswriting. Dan Isnin adalah hari tetiba diserang gastric... Rasanya dah makan. Tp dia nak dtg angin dia dtg juga. Blk tu makan ubat, okay sikit. Selasa time mandi, shampoo rambut, tetiba rasa sakit sangat. Sakit mcm terhantuk dinding... Terfikir jap, ada ke terhantuk dgn sesiapa hari ni? No. Then pergi klinik jgk sbb mama risau... Doctor ckp tu sakit dr dalam. Mkn ubat utk sehari, Alhamdulilah okay... But then, Rabu, sekali lagi pergi clinic sebab Rabu tu petang, tetiba diserang selsema bertubi-tubi. Sakit tekak menambahkan perit. Ya, al-kisahnya demam, dan tak tahan sangat dah. Maka buat pertama kalinya skip kelas ptg yg replacement Newswriting tu... Skip dgn MC ye. Dan rupanya, doctor ckp sakit kepala tu berkait dgn demam ni, semuanya sbb resdung kot :(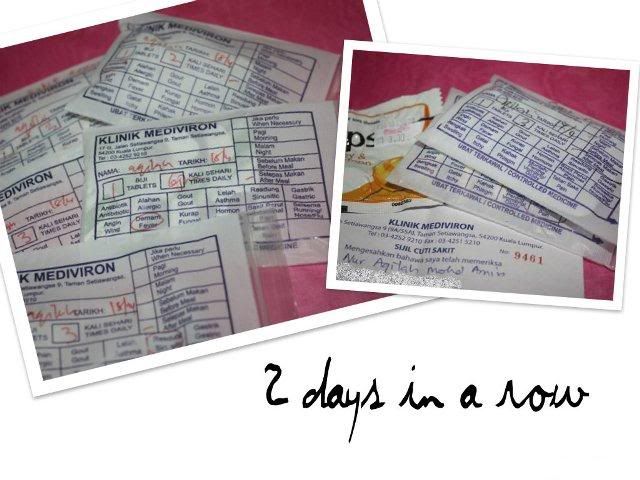 2 hari berturut-turut ye ke klinik. Second day tu lagi banyak ubat. Strepsils pun tetiba beli.
Oh MC pertama, tak suka. :(
Semalam rehat. Rasanya makin okay, dah kurang bersin. Kadang-kadang bersin. Tekak pun payau perit lagi.. Badan panas sejuk panas sejuk lagi sampai saat ni. Rasanya berjangkit dgn classmate! Ramai kot puak-puak bersin sehari dua ni. *salah korang!* Haha.. Tapi rasanya mmg musim kot. Tetiba je panasss, then hujannn, panas balikkk. Mcm tu lah seterusnya berulang-dan ulang.
Tapi pagi tadi sihat sekejap. Sebab mama ajak cari tudung area Sogo / Jalan TAR. Tapi kali ni anaknya yang banyak membeli belah. Thank you so so much mama!!!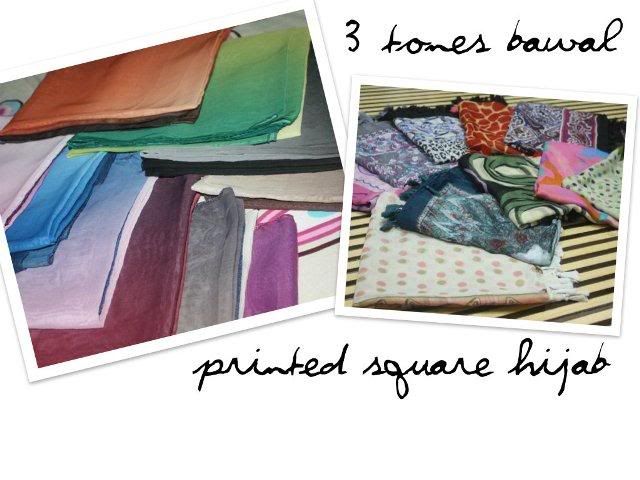 I bought 10 pieces of 3 tones square bawal & 10 pieces of printed square hijab
and I love both. I really do love both types!!!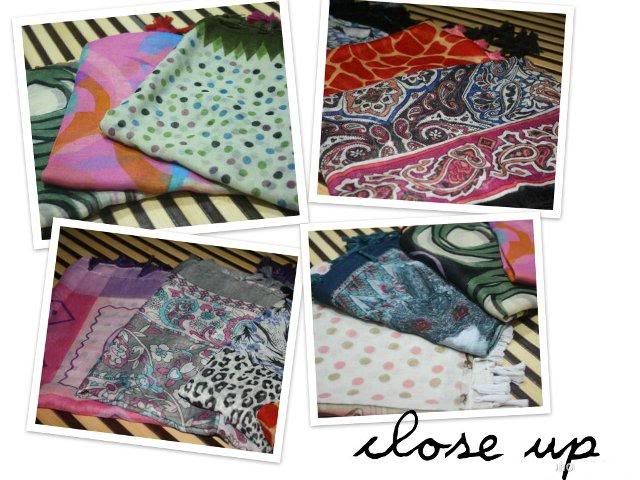 Close up of the printed hijab! Banyak lagi design yg lawa-lawa kot! Sgt banyakkk!
Ini dulu buat masa ini. :)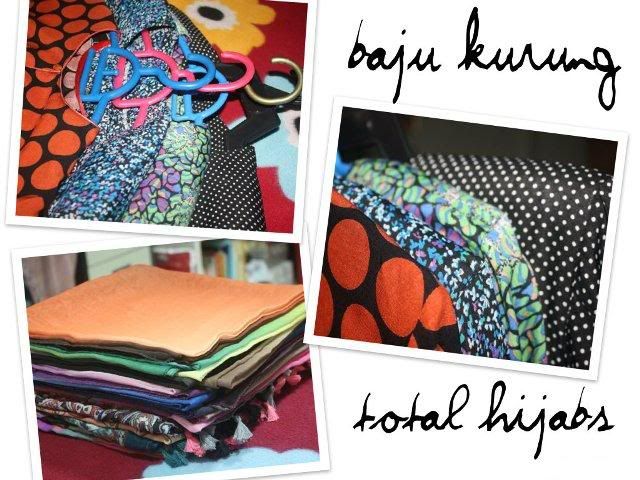 Dan juga beli 3 helai baju kurung siap. Cotton as usual. Yg oren tuh baru siap tempah.
yg 3 helai yg lain tu beli yg siap. Selalunya size M mmg sesuai. Kenapa cotton? I love love love it!
Mmg suka cotton dr kecil lagi, and cotton mcm sesuai kot nak pergi kelas.
Yeayyyy sihat jap time dpt beli 3 pasang baju kurung dan 20 helai tudung ni... Kenapa beli banyak? Sebab 3 tones tu susah nak jumpa harga yang murah sikit... Dan kalau ada pun, mmg susah nak jumpa. Nanti sikit baru berlambak kot. Yang printed hijab tu pun memang best pakai dia! Sukaaa sangat. Semua murah-murah je, sebab tu boleh beli banyak. Kalau Ariani tak mampulah nak beli 20 helai terus... Itu biar mama je beli :)
Satu perubahan yang nampak sejak masuk belajar ni.
Makin rajin iron baju dan tudung. Ye, dulu harapanlah, dari zaman asrama lagi, rela basuh baju org, dan org lain ironkan baju sy.. Seeeeeee, nampak tak bertapa tak suka iron baju? Huhu... TAPI sekarang, iron utk seminggu terus haa. Dan tak pernah lagi pakai baju sama rasanya sepanjang 7minggu ni. *Baju sikit je okay, cuma nak tunjuk bertapa rajin iron baju yang berlainan setiap minggu!* Tudung adalah sehelai-dua yang dah pakai 2 kali. Yang lain semua matching dgn baju tau tau. Haaa rajin kan :P
Ini semua pemangkin juga! :) Thank you again mama for all these hijabs and baju kurung. I know this is ONE of the way to show how much you support me towards becoming a good student.. Eheh. Insya Allah, I am trying to be the best person I could be. Thank you abah juga! Okay i will talk later bout my routine. Till then, and please take a good care of urself, everyone, good night!