ingat lagi minggu pertama hari tu, sibuk tanya kawan-kawan. "eh kita dpt ke voucher buku 1 malaysia tu eh?" semua taktahu. ada kawan kata dpt, ada kata tak dpt. eh sekali dptlah! beria beratur panjang, adalah setengah jam. yeay yeay dapat, alhamdulilah! boleh lah beli buku belajar yg mcm sgt banyak kan. ohhh, sem 1 ni ada 8 subjek termasuk koko. Jadi, 7 subjek lah kiranya.
Ini subjek-subjeknya! total credit hour : 20. ye, 20. TWENTY.
Huhu. Daripada 7 subjek belajar tu, 6 buku wajib ada, recommended by lecturer. 1 subject je, Photo communication, yg tak kisah beli apa-apa buku berkaitan photography. Okay, cuba ckp mcm mana 6 buah buku boleh dibeli dgn voucher RM200? Mmg tak dapat. Jadi nak berterima kasih dkt Cera & Nadia yg sudi menyumbangkan buku! hehe.. Dan ada lagi sebuah belum beli.
Dlm Rm200 voucher buku tu, dptlah beli 3 buah buku, dan tambah sikit duit, sebab beli buku tu lain-lain masa. Sbb buku tu tak semua tmpt ada. Kinokuniya pun tak ada. Jd guna voucher RM50, tambah cash RM20. Ada yg 2 buah buku RM122, maka voucher RM100, dan cash lagi RM22 tuh. Eh ada baki lah RM50! Yeay boleh beli

stationery

! Mama punya pencil case pun hilang, so i spent half of the voucher for mama, and the other half for me...
5 buah buku setakat ini. 1 belum dapat.
3 buah dapat beli guna voucher!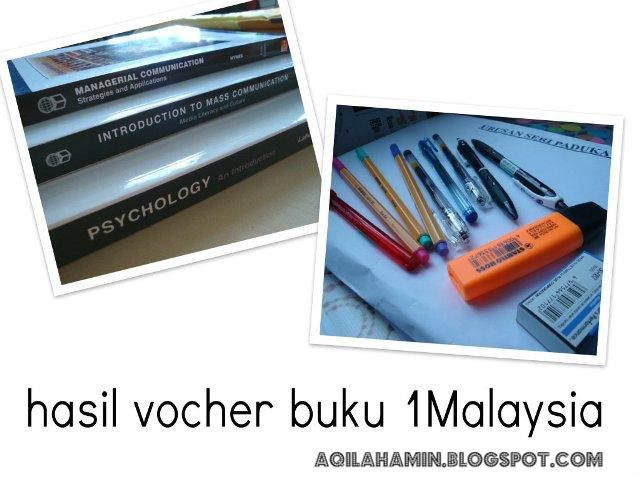 Psychology An Introduction .
Introduction to Mass Communication .
Managerial Communication.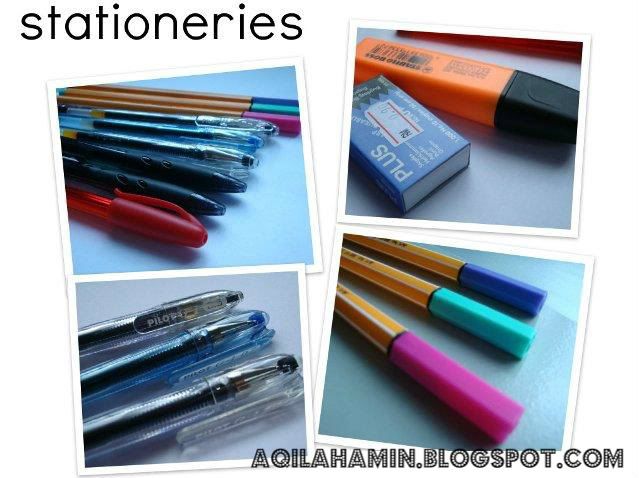 dapat 9 batang pen, 1 highlight, 1 stapler pin.
barang mama : 3 highlight, 1 stapler, 1 stapler pin, 1 liquid paper
dan er, inilah baju kesartria yg perlu pakai setiap sabtu, kawad!
ha'ah umur 23 kawad, pastu rasa lucu, pastu duk tahan gelak sensorang...
So far, tak lah penat sgt ulang-alik. Cuma tak cukup masa hari Isnin. Isnin kelas paling padat, which started from 830am, then habis around 930pm. Lepas tu selasa, kelas mula 830am jgk, ha tu yg tak cukup tidur tu. Kelas yg pagi, akan bangun 545am, keluar rumah 645am. Sampai sana dlm 730am. Gila awal kan sampai? pelajar contoh. :P sbb, kalau keluar rumah selepas 7am, mmg akan jammed. Nnt akan sampai lambat sgt plak. Sedangkan 645am pun kereta dah banyak.
and oh, isnin lepas, dlm kelas Introduction to Communication & Media Studies, kita org telah buat cabutan (draw), bukan lucky draw ye, utk giliran individual presentation. and guess what, boleh tak over 19 person dlm kelas tu, org dpt no 1? Macammm, uish seumur hidup, tak pernah dpt no 1 utk bab-bab presentation ni... so masa tu, dlm kepala, time tgh dpn-dpn classmate tuh, org terus berubah muka dan terfikir cam gambar bawah ni...
okay, now just wish me luck!
For these 3 weeks so far, agak busy. Ada je meeting lah, itulah inilah. Dan Sabtu ni ada koko, (setiap sabtu pun) from 8am, dan ada PPW - Prog Pemantapan Wawasan, dr 10am sampai pukul berapa tak tahu. Huhu... Okay, masa free yg ada haruslah dimanfaatkan! till then, take care ppl!