Assalamualaikum :)
3rd march, Sabtu lepas, selesai lah registration di uitm shah alam! Alhamdulilah. Walaupun hari Khamis mlm tu diserang gastric, utk pertama kalinya, tp berjaya gagahkan diri jgk utk pergi mendaftar! Sabtu petang tu, lepas selesai daftar, terus pergi hospital, jumpa doctor, dan baru tau rupanya gastric... :( sakit gila rupanya eh? dgn diarrhea, headache nye lagi. so seminggu ni, jaga gila mkn. tak lapar pun, makan jgk, bgn pg, subuh mkn. lunch mkn. ptg mkn. mlm mkn. pastu yg dah sedia mcm apam ni, jdlah apam kuasa dua. *sobbbbbbb*
Anddd, sgt terharu sebenarnya sbb nora dtg, thanks awk! thank you ban temankan nora. nora dtg sbb nak jumpa adik kesygan dia, nik, yg masuk uitm shah alam jgk. Thank you sbb teman mama abah berborak sementara sy que utk registration sampailah siap student card! About 1 hour jgk kan? Thanks thanks thanks!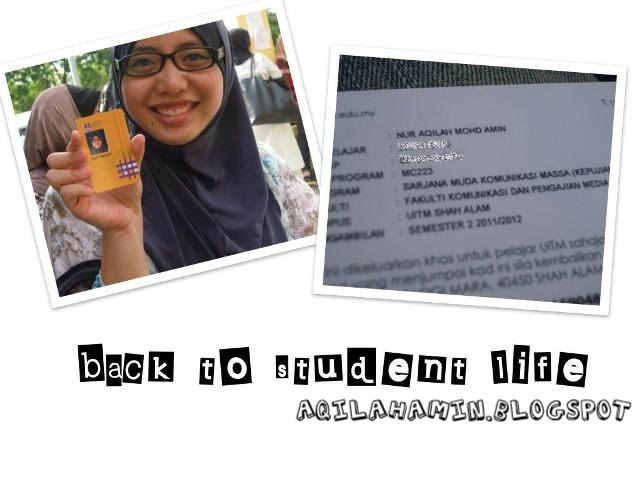 abaikan sengih sampai nampak gusi tuuu. excited lebih.
registration day - 3rd march 2012
Okayyy, 1st day kelas, 5th march 2012... Jumpa lah kwn baru yg majoritinya adik-adik yg usianya 21-22. Eh sebaya kita yg 23 pun ada jgk. tp, ada apa pd nombor usia kan? biar ada apa pd nombor pointer. :P
1st day tu, 1st time nak berebut parking, redah berkenalan muka-muka baru. Time tu jgklah baru salin jadual, cari kelas, dan hari Isnin, 1st day, dah kelas sampai malam. woo~ cumanya last kelas tu should be ended by 9pm, tp lecturer tak masuk, so kami pulang around 7pm. 1st day tu tak payah tanya lah dgn berpeluh dia mcm mana, jalan sana sini. but friends are nice, lecturers as well! Kwn yg plg kita selalu kepit buat masa ni nama dia Tia! Dan ada 8 org adik-adik lain. Hihi. Nanti kita cerita pasal dia org!
2nd day, lagiiii lah turun-naik bukit sana sini. mula-mula pegi pejabat bendahari plg dkt, utk ambil voucher buku 1Malaysia RM200, yeay! then naik bas ke PTAR (library), sampai bus stop, terus jalan turun bukit dulu ke pusat Kokurikulum, naik lg bukit, and tah berapa anak tangga, ke PTAR. Lunch hour naik bas lg, balik faculty, meeting broadcasting, then terus next class dkt area Menara. means, dr faculty, naik bas lg, panjat bukit dan tangga lg, baru sampai kelas. ini lglah badan berpeluh tahap berlengas tau! tak pernah-pernah ada tisu sentiasa dlm beg, sekarang harus ada utk lap peluh!
3rd day, 1 kelas je! 4th day, cuti... 5th day, pun 1 kelas! Di sini, nak ckp
thank you utk yg wish good luck on my 1st day, sebenarnya tak sangka okay! Terharuuuuu! Through sms, whatsapp.
Thank you ainaa, teha, nadia, nora, faris and everyone yg mmg banyak bg support!
And sebab busy utk 1st week, tak sempat nak snap picture sgt! ini adalah sikit, next week i'll share more, thee. Ini pun sbb Tia sesame snap gmbr sbb die pun nk update blog!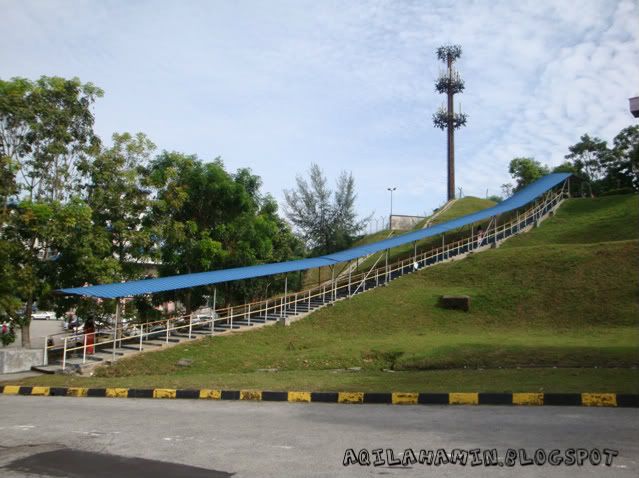 TA-DAAAAA! presenting, org panggil ini tangga puaka. tapi... sbb nak berfikiran positif,
sy namekan dia, "tangga-tangga ke pintu syurga". Ini adalah tangga yg menegangkan urat-urat kaki korang utk naik ke fakulti Masscom ni. Nampak je cikai, cuba join naik sekali!
lepas turun tangga, menuju ke parking lot. turun senang lg.
kalau time nak naik. tskkk... Ini kiranya, perjalanan seharian plg basic. Belum hari yg kene naik bas ke ape... Basic-basic ni pun dah cukup utk mencomotkan muka. Phewww~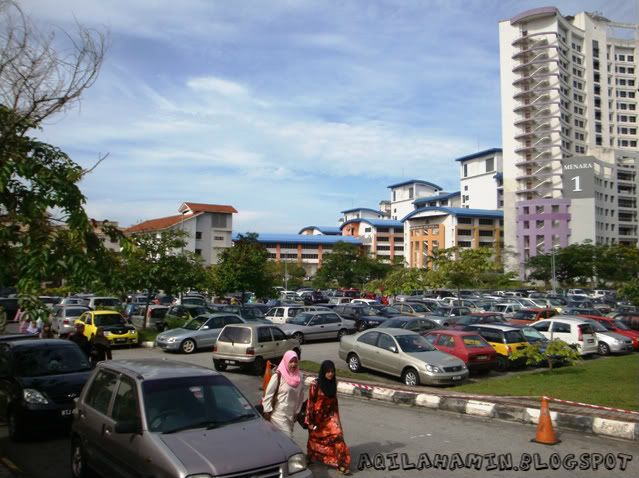 Parking di sini, memerlukan kecekapan memandu yg hebat woo. Ngeri gila!
1st - mmg double parking, so, mmg adengan tolak kereta tu selalu ada.
2nd - bila gila full, so anytime u nak keluar dr parking, extra careful, sempit.
Hehe... Jd pekerjaan tetap sekarang adalah, hari-hari tolong Tia tolak kereta. Hahaha.. Taklah hari-hari. Selalunya mmg kita org terpaksa tolak kereta lain, utk keluar dr parking. Yes, parking mmg limited. Dannn, disebabkan geografi dia yg berbukit bukau ni, dinasihatkan supaya avoid heels, bring more tissue, kipas tgn kalau ada, hahaha.
Utk sem 1 ni ada 7 subjek, dan 1 kokurikulum. Dan mmg boleh sesat dlm uitm shah alam ni ye. Jd kita nak ckp thank you jgk dkt kwn-kwn kita yg mmg dah ada dkt shah alam ni -
Thank youuuu nadia PR, nadia Broadcasting, cera, zulida, alisya, ayie, biha, dan ayong sbb selalu jd GPS kita!
Oklah, tu je dulu, till then, take care! :)