Assalamualaikum :)
Alhamdulilah sabtu ahad ini antara yang paling best utk tahun 2012. Semlm pergi kenduri kesyukuran rumah nabil dgn abah, mama, cik. Ramai betul org. And makanan semua di masak sendiri oleh keluarga nabil, sangat sedap ye lauk kampung, siap dgn kambing bakar seekor, kuih muih tradisional! Yummy! Malangnya semalam mcm sgt rushing, jd tak sempat singgah lama. :( But hey, thank you sbb ajak kami sekeluarga! Sedap semuanya! :) Then teman mama appointment clinic dkt BB, sikit punya jammed dan sesat, dkt 2 jam lah kan dlm kereta '-___-'
Malam, pakcik awie dan isteri, serta anak comel mereka, amira dtg! anonono. comel betul! menggeramkan budak kecil itu!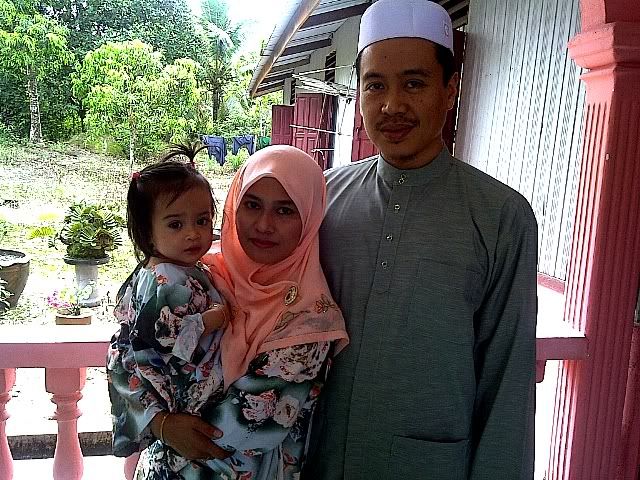 pakcik awie, cik pah, dan amira tomeytomey!
*p/s: mama, abah - tomey tu maksudnya comel ye*
Hari ni, sedapnya tidur krooh krooh, sekali ribut taufan dtg menggegar pintu! Eh, mama yg kejut, suruh bangun cepat, nak gi Sogo. Hewhewhew. Sebab apa? sebab anak kesayangan dia ni kan dah tanam anggur, jadi kalau kerajaan gaji, anak dia pun laju-laju je gumbira sekali! eh?
Sbb utamanya, nak pergi Sogo seawal yang boleh. Hari sabtu-ahad, kalau ke Sogo dan Jalan TAR lambat-lambat, mmg cari nahas namanya. Abah sesudah subuh sudah hilang ditelan masa, sedap menebas rumput di padang golf. Jadi, tepat 9:50am sudah selamat parking dalam Sogo. Wahhh, boleh tahan, dah berpusu-pusu kereta masuk parking... tapi... pintu Sogo tak buka lg. Lepas tu i dgn mama tergolong dlm kalangan mereka yg berdiri di depan pintu Sogo utk beberapa minit, sehingga tepat jam 10pagi. Dan kami disambut mesraaa oleh semua pekerja di dalam itu, siap ucap "Selamat pagi.... Selamat datang!" dengan muka penuh mesra. Siapa nak merasa, sila dtg seawal pagi.
Oh, tujuan utamanya sbb i nak tukar pencuci muka lain. Sejak June 2011, kulit muka yg dulu hanyalah berminyak gila, *hanya konon*, kini sudah bertukar menjadi berminyak, tapi kering, atau bahasa kecantikannya - dry combination. Mcm mana tu? Kulit nampak berminyak, tp bila tgk dkt, oh menggelupas rupanya, sbb kering. See. So, sejak itu, Bodyshop Seaweed sudah tidak berkesan, byebye cinta hati Bodyshop Seaweed, setelah hampir 5 tahun, kulit mukaku sudah curang. Maka, kau tidak lagi berkesan di mukaku~ Kemudian cuba Clinique set dry combination, pun, masih kering. :( Makanya, hari ni, setelah membuat kajian di Google dan membaca review di internet, i bertukar kepada Clarins!
Terlebih dahulu, terima kasih mama. Hehe.
Ini adalah basic set - cleanser, toner, moisturizer.
1 - Ada pakej discount utk 3 items ini, makanya dpt percuma mini serum, mask, sunblock dan face lifting yang bersaiz comel. Wahhh, sudah percuma 4 benda.
2 - Eh eh ada percuma lg 3 mini travel set, hasil mulut manis mama. :p
3 - Ini total semuanya dgn harga 3 botol yg basic itu.
Menurut hasil google, Clinique dan Clarins, both are great. But Clarins is the best solution for dry skin. Both are allergy tested, makanya sesuai utk mereka berkulit sensitive. Cuma, Clinique fragrance free, dan Clarins ada bau wangi-wangi. Jadi depends lah kepada masalah kulit masing-masing. Rujuk pada pakar di kaunter berdekatan anda okay! Or do some research and read any reviews about those skin care that you would love to try.
Marilah tadah tangan dan berdoa agar kulit ini menjadi lembab dan licin seadanya supaya tak perlu lah nak bermake up sampai jd patung opera. Amin! Tak faham mcm mana orang boleh selesa make up tebal satu hari? Kulit sy sangat tidak selesa. Untunglah yg tiada masalah kulit itu! Alhamdulilah :)
Kemudian, petang tadi, sempat skype dgn kesayangan di Russia, shafinaz. Oh rindunyaaa! Lepas tu sama-sama malu-malu kucing sebab tak pernah skype bertentang mata siap dgn webcam. Ya, macam org baru jatuh cinta. Hahahaha. Tp, sekejap je. Kemudian macam tak cukup masa nak bercerita. Tapi sejam itu sudah menggembirakan! Thank you bbe <3
5:30pm, terus ke JJ dgn mama abah. Beli barang dapur. Aktiviti wajib di hujung bulan. I pun tumpang 2 belah tangan, ambil benda yang penting, masukkan dalam troli. Rasa terlebih excited, sebab macam, macam seronoklah. Hehe. Pdhal tak ada apa pun.
Ini hasilnya! Dlm 10 barang keperluan sehari-hari.
1 - Bedak agnesia : memang wajib pakai bedak badan setiap hari. Bedak ini atau bedak johnson baby sahaja. Kalau tidak, bila panas, akan naik ruam-ruam yg pedih.
2 - Biore pore pack: Kalau anda musuh blackhead atau whitehead mcm sy, silalah cuba ini.
Sy sudah bertahun-tahun pakai. Sgt memuaskan hati.
3 - Tong sampah baru : Abah bising sbb tong sampah lama tak berpenutup.
4 - Marshmallow coklat : mama, kakak beli utk cik juga! kami suka!
5 - Glade sensations refill - Beli refill saje, letak dlm kereta, harum semerbak!
6 - Thirsty hippo : letak dlm almari kasut & beg, supaya tiada bau dan beg dan kasut
tidak cepat rosak atau merekah, especially yg jarang pakai.
7 - Himalaya anti dandruff shampoo : 1st time nak try. Sy sedang avoid produk yg banyak chemical.
8 - Cotton bud : bukan utk korek telinga semata, utk lap eyeliner comot juga!
9 - Garnier deodarant : antara deodarant kegemaran sbb tahan lama dan segar.
10 - Colgate : disarankan oleh doktor gigi seluruh dunia. :p
LEPAS TU, KITA DPT HADIAH LAGI...
mama belikan sbb kita mmg suka vacuum.
Rela vacuum dari menyapu. Hahahahaha. Thanks again mama!
Dan kemudian, sampai rumah maghrib, hujan lebat. Solat, kemas dan susun barang. Kemudian dihidangkan dengan mee goreng basah special dr mama! Sedapnya. Okay, ini seronok! Makan beramai-ramai dengan nenek (cik), auntie, sepupu (faris, kak sally), mama, dan abah.
Mee mama sangat sedap! Tambah pula dgn ketawa berdekah-dekah sebab cik membebel, tapi cik banyak tersasul, kemudian auntie ajuk kata-kata cik. Aduiii. Sampai tak boleh nak telan mee. Ada sangat banyak, tapi sudah lupa. Antaranya perkataan yg cik salah sebut :
kepala otak - kepala hontak
Dan, tamatlah sudah hari ahad. Fuh, esok genap lagi seminggu je cuti yang tinggal. Kemudian ke sekolahhh! Nanti update ttg beli brg sekolah lagi. Jgn bosan tau, kita dah lama tak pergi sekolah. Dah start sekolah, kita diam tak shopping dah!
Okay, have a nice week! Goodnite, take care! :)