assalamualaikum :)
1st of december, Ombak Rindu officially launched. Diadaptasi oleh novel hasil karya Fauziah Ashari. Dulu novel ni sgt amat popular zaman sekolah rendah dulu. Heh. Meleleh-leleh air mata tgk kengkawan baca. dan mesti semua akan tanya "dah baca ombak rindu?" yes, it was a phenomenon.
Soooo... memula jatuh cinta dkt OST filem ni,
Ombak Rindu by Hafiz & Adira
best sgt! sebab tu tak sabar nak tengok movie dia since novel dia pun sangat laku! oh lagu ni, lirik dia sebak sungguh, berunsurkan ketuhanan jgk. well it concludes a pure love.
Then rasa excited nak tgk, especially rasanya dah lebih 4-5bulan tak tgk movie. check out the movie poster!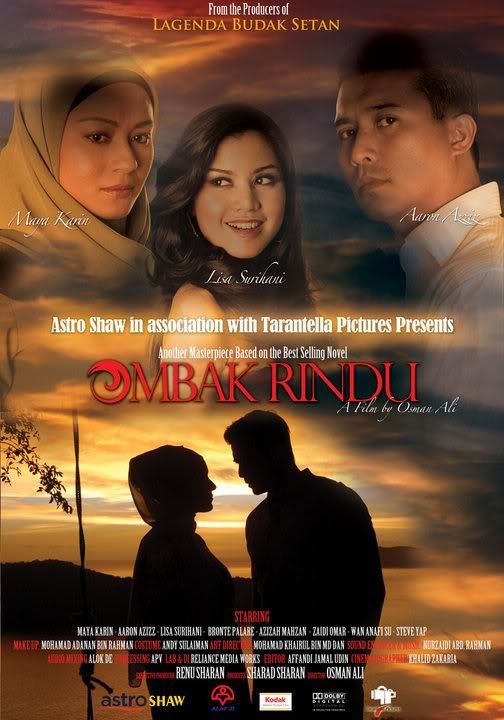 Hurm, meh dipendekkan cerita. Cerita ni mengisahkan Izzah (Maya Karin) yg asal dr kampung, anak yatim, lemah lembut dan baik orangnya. Mail (Bronte Palare) selaku jejaka no1 kampung tu pun, jatuh cinta dkt dia. Tp Izzah anggap dia as best friend je. Then, kekejaman terjadi apabila pakcik Izzah pergi jual dia dkt kelab malam dkt KL. Time ni lah Hariz (Aaron Aziz) pertama kali jumpa Izzah, dan akhirnya membeli Izzah dr tauke kelab malam tu setelah Izzah merayu-rayu.
Akhirnya, Izzah dgn Hariz berkahwin di Thailand sbb Izzah merayu lagi supaya dpt menghalalkan yg haram. Dlm masa yg sama, Mila (Lisa Surihani) pun balik dr oversea sbb dah tamat belajar, dan dah lama rancang nak kahwin dgn Hariz. Tapi, lama-lama, biasalah, Hariz betul-betul jatuh cinta dkt Izzah... Mila still nak kahwin dgn Hariz walaupun Hariz dah terus-terang tak cintakan dia. And the movies goes on! SILAAAAA TONTONNNN!
Izzah (Maya) dan Mail (Bronte)
Dah mula jatuh cinta. time ni sedih jugak.
Hariz dan Izzah.
"that one fine day you'll be deadly in love with me"
Mila dan Hariz
time ni sumpah sedih and tetibe rase jatuh cinta dkt aaron aziz.
sebab dia menangis tu, sangatlahhh real!
Overall, best juga lah. great love story. TAPI, i tak menangis tadi. I mean mmg tak menangis, tak tahulah cerita ni ta cukup sedih, atau diri sendiri kebal, tp kagum jgk tak nangis. heh. Cerita ni sedih sebenarnya. yup, dari awal sampai akhir. tapi ada benda lawak jgk, bila Hariz still ego dkt Izzah. And buat yg dah lama tunggu, sila tengok cerita ni, berbaloi :)
Maya was great, same goes to Aaron. Bronte pun comel-comel je. Lisa sgt berkesan berlakon jd jahat, walaupun ada certain part dia nampak mcm push too hard utk jd harsh. Mungkin ramai org ingat, Lisa jahat dlm cerita ni. Tapi sebenarnya Lisa cuma a normal, popular actress yg memang syg gila-gila dkt Hariz. Ada time kesian juga tgk dia...
TAPI, disebabkan dah ada basic broadcasting. Mata macam terfokus benda lain. Kenapa editing dia banyak guna fade to black eh? Anddd 2nd last scene dkt sawah padi tuh, clip mic Maya punya speaker, yg selitkan dekat belakang tu, obvious sgt nampak. and ada jump shot Mr Editor! and, ada shot yg kabur, i mean tak betul focus, mybe technical prob kot. and ade shot dkt pantai tu, elok Hariz dgn Izzah je, tetiba ade org lalu, tak sure lah krew kot. huhu. but DOP did a great job, nice shot semua! good job everyone! :)
One of a great Malay movie. Siapa baru putus cinta, sila bawa tisu. hehe... 2jam 5minit anda memang tak terasa dah pun berlalu. okay, this is just from my point of view. do watch and enjoy every bits of it! till then.