Assalamualaikum :)
Sejak kecil lagi, kalau bukan melalui mama abah pun, melalui ustaz dan ustazah, rasanya semua pun dah tahu batasan aurat perempuan. Paling kurang pun, mesti dah tau basic aurat perempuan - seluruh anggota tubuh kecuali wajah dan dua telapak tangan.
Honestly, waktu memula akil baligh, rasa mcm, "kenapa mudaaa gila kena pakai tudung? kenapa tak boleh pakai shorts, alaaa short sleeve?!!" bukan main liat lagi. Tp sekolah, tuition semua belajar pakai tudung. Cuma kalau time pergi dating, keluar 'dekat-dekat' dgn family, freehair. Keluar dgn kawan-kawan pun, depends on which group of friends. Sampailah sem-sem awal zaman kolej. *ish ish ish*
Padahal abah mmg jenis tegas orangnya. Aurat paling dijaga. Yg lain dia boleh tolerate lagi. Tp anak dia boleh tahan hantu zaman sekolah menengah. Bknlah hantu jenis ponteng kelas, NO-NO, tp hantu degil nak ikut itu ini. But then, you know what, slowly, I begin to love hijab. And now, I feel uncomfortable without hijab covering my hair and chest.
And today, I would like to share this campaign, rasanya most blogger dah promote, but this is my part, in wearing in right. Oh campaign ni dipelopori *bukan main tatabahasa* oleh sis Sue Anna Joe. Thank you sis :)
Part ni, memang diri sendiri pun kadang terpesong, sbb ada setengah shawl mmg singkat,
and sometime instant shawl pun mcm singkat, but I am trying my best. :)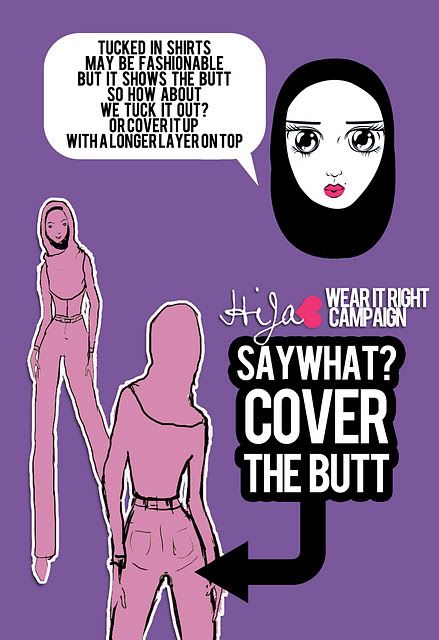 this one is obviously becoming one of the top trend nowdays.
Girls, you do look smart, with a semi-formal attire, but yup, it shows the butt.
I am currently trying to avoid those too-tight shirt, err jeans taklah ketat sgt, *hehehe* but I try utk cover dgn baju yg labuh. Erm, I'm tryinggg. Pray for me! Yes Aqilah, ingat, Aurat utk ditutup, bukan utk dibalut. Nak balut, pergi balut nangka! :P And thank you, ramai yg support dan tegur bila ada yang tak kena. Thank you sebab jauhkan i sikit-sikit dr api neraka!
TAPI... sekarang ni, kalau pergi sungai or org dtg rumah, kadang tak menutup aurat betul-betul lagi. Hurmmm. Guess it is time utk berubah. Pakai tudung walaupun pergi pantai or mandi sungai! Boleh aqilah? *BOLEH BOLEH*
Dan, ada satu benda sy tak berapa suka sebenarnya. Siap ada facebook page "Kami tak suka orang yang kejap pakai tudung, kejap tak pakai" Hurmmm. Tak baik tau. Memanglah sy pun tak gemar, orang yang elok selama ni bertudung, tetiba tak pakai. Bukanlah kita tak suka orang tu, tapi kita rasa terkejut! Sebab selama ni cantik dia bertudung litup, tetiba tak pakai. Rasa kecewa :(
Ok, yg sy rasa kurang setuju kan, sebab, macam mana kalau org tu sebenarnya free hair, then dia tgh belajar utk bertudung. Biarlah dia slow-slow, I mean at least dia try utk bertudung. Sebab tu dia kejap free-hair kejap bertudung. Sepatutnya support lah dia utk bertudung, kita pun dpt pahala. Ini na kritik gila-gila, dia berdosa, kita lagi berdosa. Elok niat dia nak bertudung, terus tak pakai silap-silap. Hurmmm...
Utk kawan kita yg selama ni bertudung, tiba-tiba tak bertudung, kita nasihat dan doakan je. Insya Allah lama-lama dia berubah. Dan utk mereka yg baru belajar, show some love. Doakan saya juga, Insya Allah :)
firman Allah Subhanahu wa Ta'ala,"Dan janganlah mereka menampakkan perhiasannya, kecuali yang (biasa) nampak darinya." [TMQ An-Nur (24):31].
Dan Hadis Rasulullah riwayat dari Bazzar dan At-Termizi menjelaskan,
"Sesungguhnya wanita itu adalah aurat, setiap kali mereka keluar, syaitan akan memperhatikannya."