salam. disebabkan ia adalah majlis perkahwinan, yang jarang-jarang berlaku dalam keluarga sy *anak tunggal lah katakan*, tak adalah sampai sepupu kahwin every year kan. So, sila lah tgk semuaaa GAMBAR BESAR GEDABAK :P
venue : Dewan Jubli Perak, Teluk Cempedak,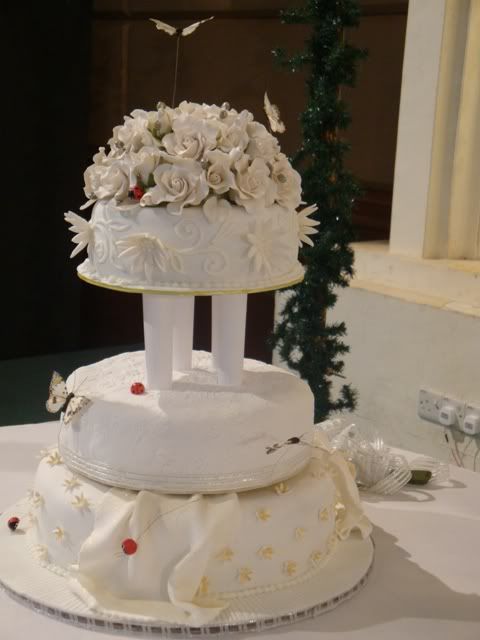 wedding cake.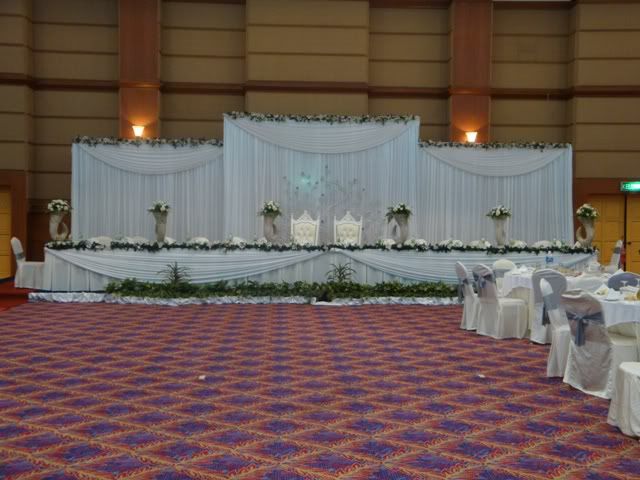 tempat makan high table pengantin.

and that tiny little one - aisyah, a 1o years old budak kecik :P
cam cantik gile, TAK ADE EDITING OKAY!
die panggil sy 'auntie QIYAHHH' pfttt. ''-___-''
ini konon berangan lah. tak kuasa nak kahwin sepupu. wahaha.

mereka sengal. jodoh melalui internet wkt both of them study dkt UK. hee.
and then, semua guest dah balik, berangkat pulang... MAMA org pertameee pergi karokae. adehlah. sempoi betullah mama. apsal anak die ni pengecut, penyegan teramat sgt ha? wuuu T__T and guess what, mama jugalahhh org pertameeee mulakan POCO-POCO.
azwa (2pupu), aisyah, mama.
lepas tu kak ngah, lishah, faris, aisyah, teh,
kawan-kawan kak lin, SEMUAAA join & belajar time tu jgk ''-___-''
okay, balik rumah dah around 1am. bila semua dah sampai rumah, angkat-angkat barang... tibe-tibe baru perasan... "siapa ambik pengantin?" semua org tertnggl pengantin. lepas tu pengantin SMS - "lin tumpang kawan" hua3... kesian tak pengantin tumpang kawan? HAHA.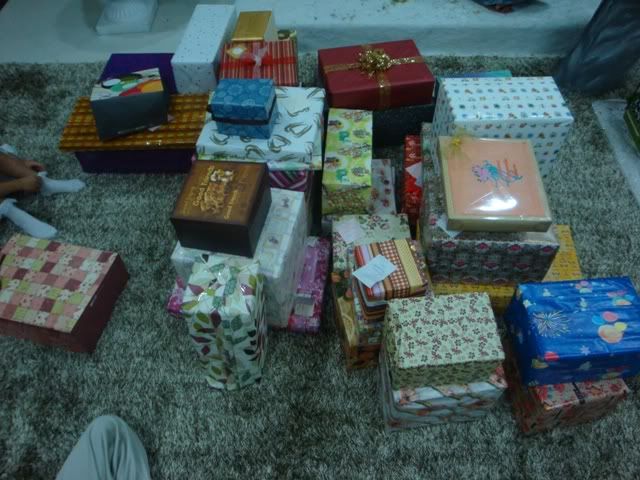 a part of those gift. most of them mmg blender, gelas, rice cooker. etc.

sbb semua org dah mengantuk nak mati. HAHA
it was greattt... aman, semua org enjoy, well terutama mama lah kan. die yg mula karokae & poco-poco dlu. huu. bunga telur segala goodies, habis. makanan pun okay, baju kak lin pun cantik-cantik. and the next day, semua muka penat tak boleh blah. dan semua pun beransur pulang, utk kerja...
so, who's next? sy bet kema. after kak sally. HAHA :P